The deal
Buffet for 1 person for RM55 instead of RM98
Buffet for 5 people for RM240 instead of RM490
Buffet for 10 people for RM450 instead of RM980
Menu
Appetiser
Grape leaves
Yoghurt with cucumber
Olives
Hummus
Muttabal
Mains
Rice
- Mandy
- Zurbian
- Madfoon
Gravy
- Mushakal
- Sahawiq
Meat
- Madfoon lamb or chicken
- Mandy lamb or chicken
- Zurbian lamb or chicken
grilled items
Kebab
Shish Tawooq
Lamb cubes
Served with Arabic bread, fries, salad, and garlic sauce.
Arabic Delights
Saltah
Brown beans
Minced lamb
Aqdah lamb or chicken
Fahsah lamb or chicken
Sanonah prawns
Desserts
Baqlawah
Basbousah
Créme caramel
Muhalabiah
Drinks
Vimto Arabic syrup
Orange syrup
Sky juice
Tea or coffee
Madfoon Palace
Madfoon Palace heralds a novel foray into Arabic cuisine with mainstay servings of Yemeni-based madfoon delicacies - a platter of meats and aromatic basmathi rice blended with a mix of spices - stoked under a blanketing of embers, charcoal, and ash and left to cook over a span of four hours, making for savoury tender morsels accompanying fragrant rice dishes. Helming this time-honoured process are Madfoon Palace's duo of native Yemeni chefs and brothers, Saleh and Ahmad Obaid, who have more than 15 years of culinary experience. In addition to its namesake specialty, the hometown duo also expands the plethora of tastes hailing from Yemeni roots with mandy chicken and kebab skewers of choice meats served alongside mixed grilled platters, while offerings of muttabal and hummus accompany wholesome bread and rice pieces.
Madfoon Palace does not serve pork or alcohol on its menu.
Facebook: Madfoon palace Arabic Cuisine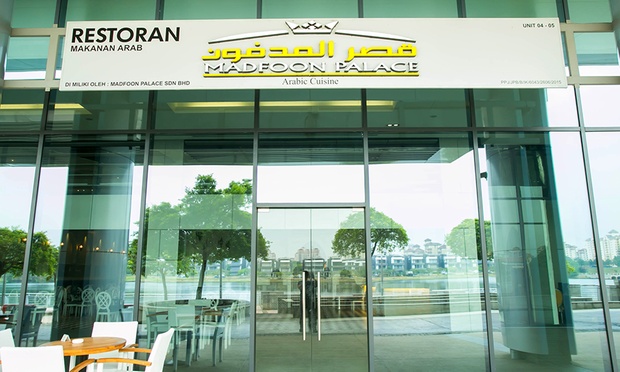 Unfortunately the following deal is no longer available
but do not worry, there are more discounts for you
---