The deal
Deluxe Balcony Room
3D2N stay for 2 for RM428 (up to RM775 value)
4D3N stay for 2 for RM628 (up to RM1,162 value)
5D4N stay for 2 for RM828 (up to RM1,550 value)
6D5N stay for 2 for RM1,018 (up to RM1,937 value)
Hotel at a glance
Carving out a sliver of Bangsak Beach for its timbered stead as a sojourn enabler, your five-star host reposes under golden-green palms and unfettered skies that sink into an endless fecund mesa. Floral backdrops scatter jasmine and peony blooms to be crushed underfoot, scenting the salt-soaked air with a hint of the tropics which guests carry back into timbered rooms brocaded in lush traditional Thai prints and swaying birdcages. Heed the call of the Andaman, its lapping waves and soaring gull-cries kindling desires that might be abated with hourly swims and strolls down the powdery sands of a pristine coastline.
Taste your way through Thailand's culinary prowess, scraping noodle remnants from plates in the aftermath of meals at Pad Thai, where the eponymous dish is celebrated and reinvented with fresh seasonal ingredients – if local flavours fail to impress, perhaps consider a turn at its neighbour, Colours, where global cuisine takes the spotlight instead.
Deposit hatchlings into the corridors of the Kids Club, its dedicated staff guiding them through atypical holiday activities like beach yoga and Thai dessert-making classes, while parents luxuriate in the welcoming embrace of a poolside bar or head off to enjoy the vibrant Khao Lak night life.
Exclusivity lines the paths to the serene waters of Manathai's outdoor pool, regaling more private individuals wanting solitary swims; the lagoon melts into the grounds of prim garden stretches that also leads to a well-equipped gym where bodies attempt to forget their hasty holiday repasts.
Deluxe Balcony Room
48sqm room
Double bedding
Max. occupancy: 2 adults and 2 children aged 15 and below per room
Hotel facilities
Restaurants and bar
Outdoor pool
Tour services
Fitness centre
Kids Club
Private library
Airport and shuttle services
Motorbike and car rental
Doctor-on-call
Wi-Fi
Add-Ons (payable to Hotel)
Stay without extra bed with breakfast for child aged 15 and below: Free
Phang Nga, Thailand: What to see and do
An idyllic escape into a province brimming with natural attractions, Phang Nga has become a popular destination for travellers seeking a scenic retreat with quiet beaches and clear waters. At Phang Nga Bay National Park, you can visit a host of interesting locations starting with Koh Panyee, a fishing village built entirely on stilts where you can observe the local lifestyle and savour a fresh seafood meal. Afterwards, tour the emerald waters by boat, canoe, or kayak to get a closer look at its soaring limestone cliffs – a geological product of nature's architects – and maze of "hongs", a network of collapsed cave systems concealing within its enclaves a unique ecosystem of birds, fishes, and monkeys. Snorkel through the multi-faceted reefs that the calm of the Andaman sea is famed for, teeming with colourful fishes that live between the craters and crevices of an array of corals. Alternatively, walk through 18,000 acres of Khao Lampi–Hat Thai Mueang National Park in search of its six-tiered Lampi Waterfall that cascades down layers upon layers of rocks, smoothed by centuries of water weathering.
Add a twist of culture to your coastal vacation with a visit to the Suwan Kuha temple, a Buddhist temple located at the base of a mountain within which reclines a 15-metre long golden Buddha along with earthenware relics and hanging stalactites. Another sight unique to Phang Nga is The Heaven and Hell Cave which exemplifies the marriage of nature with local traditions. A Thai Hindu-Buddhist temple, its slightly decrepit state adds to the eerie atmosphere as it takes you through statues of monks, deities, and mythical creatures before arriving at the darkened tunnel of the caves with tiny windows that afford a glimpse to the outside 'Hell'. The depths of the cave is where 'Heaven' resides, represented by two statues of Buddha that offer a familiar respite from the grotesque representation of 'Hell' on the outside.
Facebook: Manathai Khao Lak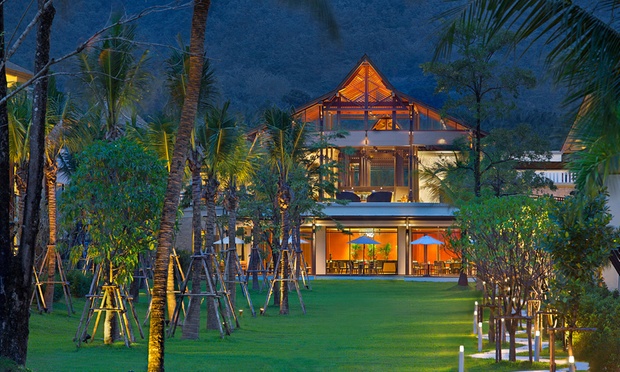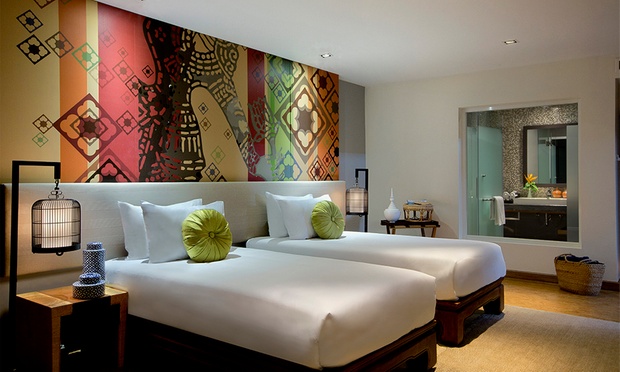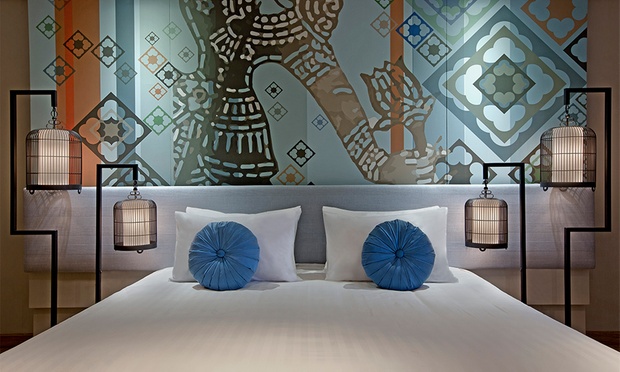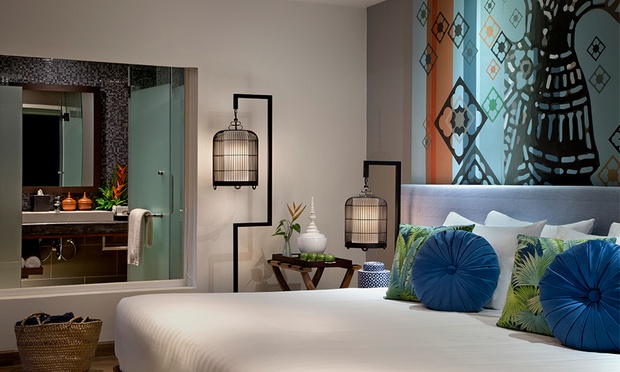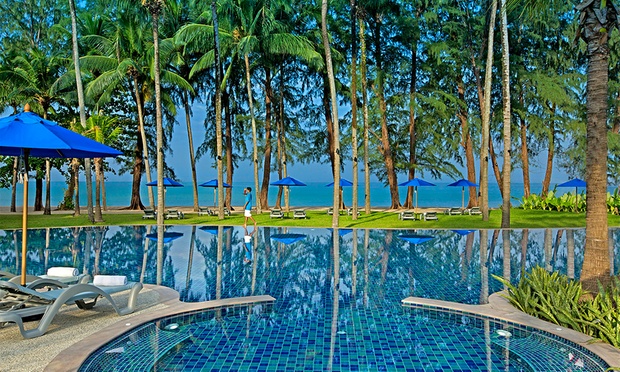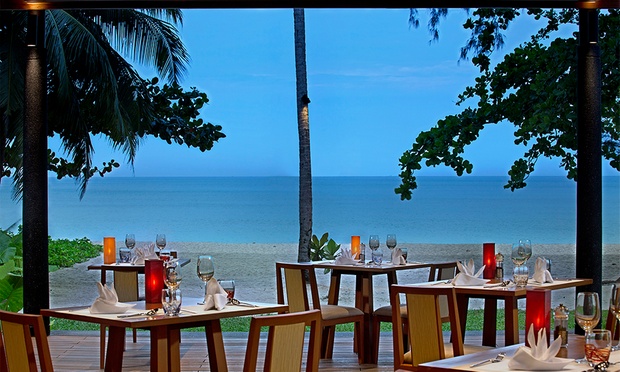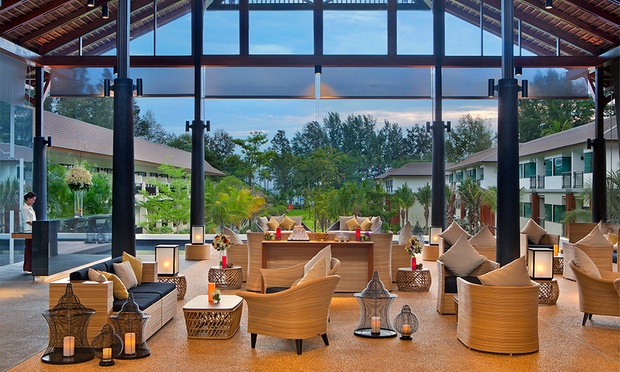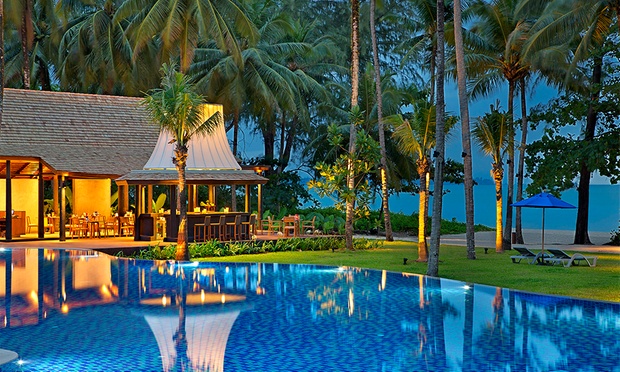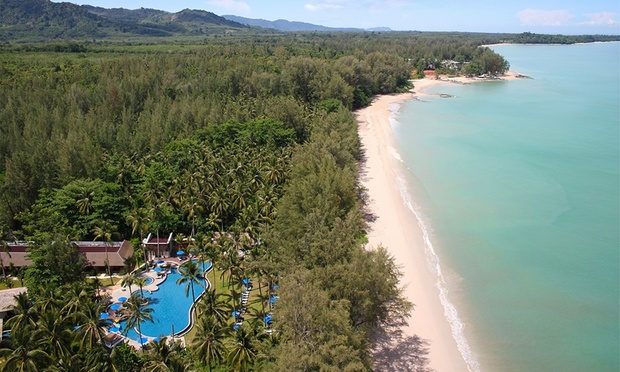 Unfortunately the following deal is no longer available
but do not worry, there are more discounts for you
---